left_ menu
content_
Our Clients
ITC is committed to fostering strong business relationships by providing state of the art facilities aligned with the requirements and priorities of our clients.
Our goal is to build long-lasting alliances with our customers, making our business an extension of your business. By providing reliable service and support to clients, we continually promote the client's best interest and make sure the client's success become our success.
National Fertilizer Marketing Ltd.
Utility Stores Corporation Ltd.
Trading Corporation of Pakistan
Pakistan Steel Mills
Islamabad Electric Supply Company Ltd (IESCO)
Pakistan Cement Factory
Pepsi Gujranwala (Nobhar Bottlers Pvt. Ltd.)
Bestway Cement Limited
Al-Karam Textile Mills, Karachi
Habib Rafiq (Pvt.) Limited
Hino Pak Motors, Islamabad
Sitara Chemicals (Pvt.) Limited
Intercountruct (Pvt.) limited
Transpack Packing & Freight Forwarding Company
Mitsubishi Islamabad Motors
Victory Pipe Industries
Barkat Rice Mills
Sihala Flour & General Mills
area
Extra Security And Safety
ITCL offers you flexible and affordable secure transportation of superior quality with enhanced visibility and proactivity features..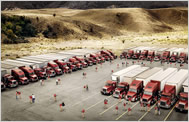 Indusrty level Solutions
ITCL focus on industry sectors means customers benefit from working with specialists - not just in logistics, but also in their particular marketplace. With our industry-leading sector solutions, we provide our customers with real competitive advantage.